FortressOne
Quake Team Fortress Remastered
Free and open source fork of the original 1996 QuakeWorld mod Team Fortress. Fast-paced, class based, arena first person shooter remastered with refined graphics, new mechanics and evolved gameplay.
Download
Extract and run
Latest release (12 August 2023):
Optional extras:
Pick-up games are organised on Discord.
Screenshots
Click to open
Words
What people are saying about FortressOne
"Possibly the best game ever made!"
"FortressOne has brought qwtf current both with improved graphics and slightly tweaked gameplay. The community on discord is very friendly and happy to help you get setup and running quickly. They organize pick up games every night and also setup tournaments."
"This is the game you played 20 years ago and fell in love with!"
"An outstanding mod with a lot of work going in to improve game play still till this day."
Classes
The low-down on each
1. Scout


Speed

450 unit/s
Armour

25 Green
Specials

Dash
Scanner
Attributes

Uncover enemy spies
Disarm detpacks
Weapons

Nailgun
Shotgun
Axe
Grenades

Flash / Caltrops
Concussion
2. Sniper


Speed

300 unit/s
Armour

40 Green
Specials

Zoom
Weapons

Sniper Rifle
Assault Rifle
Nailgun
Axe
Grenades

Frag
Flare
3. Soldier


Speed

240 unit/s
Armour

200 Red
Specials

None
Rocket jump
Weapons

Rocket Launcher
Super Shotgun
Shotgun
Axe
Grenades

Frag
Shock / Nail
4. Demolitions Man


Speed

280 unit/s
Armour

110 Yellow
Specials

Detonate pipebombs
Set detpack
Weapons

Pipe Launcher
Grenade Launcher
Shotgun
Axe
Grenades

Frag
MIRV
5. Medic


Speed

320 unit/s
Armour

90 Yellow
Specials

Healing Aura
Attributes
Weapons

Super Nailgun
Super Shotgun
Shotgun
Medi/Bio Weapon
Grenades

Frag
Blast / Concussion
6. Heavy Weapons Guy


Speed

230 unit/s
Armour

300 Red
Specials

Cannon Lock
Attributes

Reduced knockback when taking damage
Weapons

Assault Cannon
Super Shotgun
Shotgun
Axe
Grenades

Frag
MIRV
7. Pyro


Speed

300 unit/s
Armour

150 Yellow
Specials

Airblast
Rocket jump
Attributes

Enemies take +25% damage when alight
Is resistant to fire
Weapons

Flamethrower
Incendiary Cannon
Shotgun
Axe
Grenades

Frag
Napalm
8. Spy


Speed

300 unit/s
Armour

90 Yellow
Specials

Feign
Disguise
Attributes
Weapons

Nailgun
Super Shotgun
Tranq Gun
Knife
Grenades

Frag
Hallucinogenic Gas
9. Engineer


Speed

300 unit/s
Armour

30 Yellow
Specials

Dispenser
Sentry Gun
Attributes

Dismantle enemy Buildings
Weapons

Railgun
Super Shotgun
Shotgun
Spanner
Grenades

Frag
EMP
Controls
There's a lot of buttons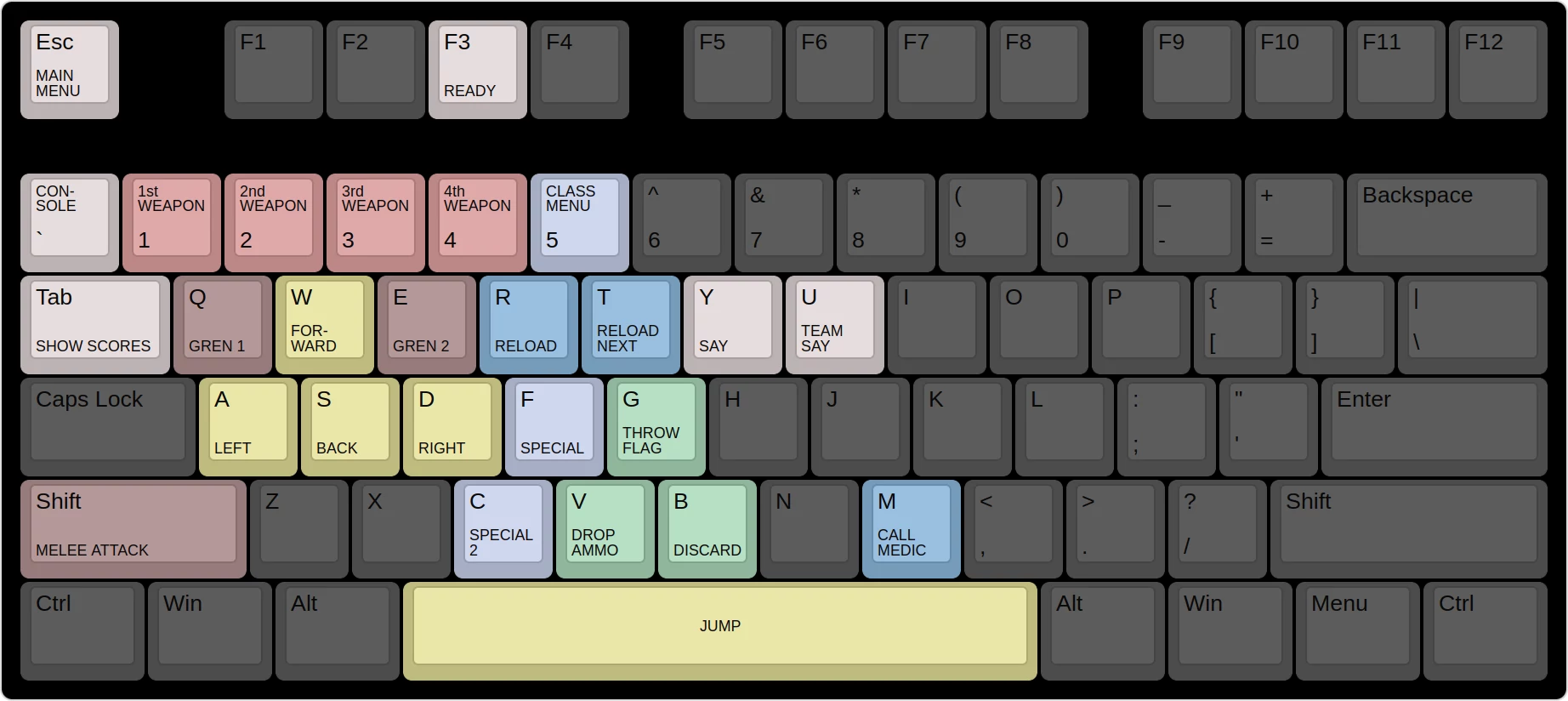 Acknowledgments
A true grassroots community project
FortressOne is powered by:
It takes inspiration from: